Cost
If you are considering a vasectomy reversal, you probably have a lot of questions. Most patients want to know how much the procedure costs, as it is usually not covered by insurance. In general, a vasectomy reversal is performed at an outpatient surgical center under general anesthesia, and because the procedure can vary in complexity, costs range from $5,000 to $15,000.
Before Your Procedure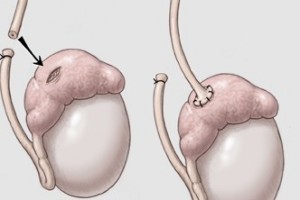 In the period of days before your procedure, from a week to ten days, you should not take drugs or supplements that might thin your blood, including things like ibuprofen, aspirin, warfarin (Coumadin), fish oil supplements, and vitamins C and E. These things can increase your bleeding during surgery or afterwards.
If you are on a medication that does thin your blood, you should not discontinue that medication before you consult with your doctor. Do not stop taking your medications until you discuss this with your physician.
When you see Dr. Larish, New York's best vasectomy doctor, he will ask you for a complete list of all prescription and over the counter medications that you are taking. It is helpful it you bring all of your medications or a complete list with you when you have your consultation to plan a vasectomy reversal.
Be sure to notify your vasectomy reversal surgeon about any allergies, to either foods or drugs. Your surgeon will also want to know about all of your medical problems and previous surgeries.
The Day of Surgery
When the day of your vasectomy reversal arrives, wear loose-fitting pants, but be sure that you have either an athletic supporter or tight underwear to wear after your procedure. You will have to have someone with you who can drive you home on the day of your surgery, because you can expect to feel woozy for the rest of the day as a result of the medicine used to put you to sleep during the procedure.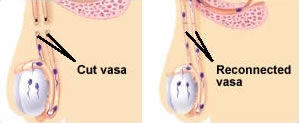 When you arrive for surgery, your scrotum will be thoroughly cleaned and, if you haven't done so, shaved, for the procedure.  Your doctor may have a mild sedative ordered to relax you before you get into the operating room. You will have to be certain that you have not had anything to eat or drink, usually from the evening before your surgery.
When you have your procedure, you will be asleep under general anesthesia, to keep you from being aware of pain and also to keep you from moving, which could interfere with the delicate work of the surgeon. When you awaken, you will be in the recovery room, and after a few hours, you will be able to return home. Before you return home, your doctor will be certain that you are able to breath easily on your own, that you are alert, and that you can urinate. You will be advised to take it easy for a few days, and to avoid sex and other strenuous physical activity.
If you are considering a procedure to reverse your vasectomy and restore your fertility call to make an appointment today with Dr. Larish, the best vasectomy reversal doctor in New York.
Our staff is standing by at 646-862-5500 to assist you as you arrange your initial consultation.