One of many questions asked by patients after a vasectomy reversal is how can they increase their sperm count? Dr. YanivLarish , the best vasectomy reversal doctor in New York City, tells patients that it may take from six to twelve months before they achieve their optimal post-procedure sperm count.
Sperm Cycles
Sperm cycles are 90 days in length. This is how long it takes to produce new sperm and to ejaculate old sperm. After your surgery, we will wait six weeks to analyze your postoperative semen. Your sperm motility may still be low, because there will still be old, dead sperm in your ejaculate. After about two sperm cycles, you will have good sperm quality in your semen, although some men may have a good sperm quality and good sperm motility in as little as three or four months after a vasectomy reversal procedures.
Sperm Count
Sperm counts can only achieve the highest possible quality after a vasectomy reversal by an experienced urologist who can offer the best repair of the vasectomy. Dr. Yaniv Larish, the best vasectomy doctor in New York City, offers microsurgical vasectomy reversal to his patients. This allows the best visualization of the surgical site, and can provide the best outcome surgically, leading to maximal sperm production. The skill of the surgeon is a key factor in the post-vasectomy sperm count restoration, and if you are considering a vasectomy reversal, you should consult the best vasectomy doctor in New York City.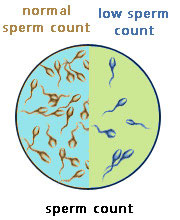 There are a number of steps that can help you optimize your sperm count after you have a vasectomy reversal. You should minimize lifting, pulling, and stretching, or other movements that cause strain, in the first two weeks after surgery. Dr. Larish, the best vasectomy doctor in New York City, routinely advises his patients to even avoid getting in and out of their car, to avoid strain that can result in reduced sperm count after a vasectomy. Dr. Larish will supply complete post-operative instructions to allow you to recover quickly and thoroughly from your vasectomy reversal.
After Vasectomy Reversal
Sexual activity should be postponed for at least three weeks after a vasectomy reversal, and high water temperatures that are found in hot tubs should be avoided. Patients should avoid excess alcohol use, as this will impair sperm production. You should also avoid smoking if you've undergone vasectomy reversal, because it results in slower wound healing!
A well-balanced diet will provide your body with the necessary nutrients to produce sperm, and reduction of inflammation is also helpful. Dr. Larish may prescribe anti-inflammatory
medications to his patients who have undergone a vasectomy reversal.
If you are considering a vasectomy reversal for restoration of your fertility, your post-operative sperm count can recover to the optimal status by following your doctor's directions in the post-op period. Dr. Larish, the best vasectomy reversal doctor in New York City, can advise you of the best ways to increase and optimize post-procedure sperm counts for fertilization. Call us today for your initial consultation!