Success Rates Depend on the Type of Reversal Procedure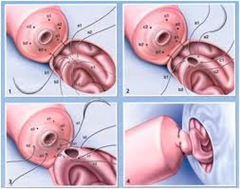 The 2008 report of the American Society for Reproductive Medicine cites current research indicating that microsurgical vasovasostomy results in sperm return to the semen in 85% to 90% of men and successful pregnancy in 50 to 70% of their partners. In men treated with microsurgical end-to-side vasoepididymostomy, sperm returns to the semen in 84% of men evaluated for 6 months or more, and 42% of men achieve pregnancy when evaluated for 12 months or more. When sperm do not return to the semen by 6 months after vasovasostomy or by 18 months after vasoepididymostomy, the reversal procedure has failed.
Success Rates Depend on Location of Vasectomy
Vasectomies which are performed closer to the testicle are more difficult to reverse and may require a vasoepididymostomy. A vas deferens that is disconnected further away from the testicle permits a reversal using the vasovasotomy technique which is known to have a higher success rate.
Success Rates Depend on Length of Time since Vasectomy
The more recent the vasectomy, the better is the prognosis for success in vasectomy reversal. Nevertheless, Dr. Larish has successfully reversed vasectomies in patients up to 40 years following a vasectomy with pregnancy occurring in as little as a few months after reversal.
Other Positive Indicators of Successful Reversal
A prior history of good fertility especially with the same partner, overall good health, and the presence of a "sperm granuloma" all increase the likelihood of success. A sperm granuloma acts as a pressure relief valve for the epididymis and keeps epididymal pressure low which decreases the risk of epididymal rupture. Epididymal rupture ("blowout") would necessitate the vasoepididymostomy procedure known to be the less successful of the two types of reversal surgeries. The longer the vas deferens on physical exam, the lower is the risk of obstruction and the greater is the chance for a regular, more successful vasovasostomy procedure. However, the absence of epididymal blockage or vas deferens obstruction on exam cannot guarantee that a vasoepididymostomy will not be necessary.
Negative Indicators of Successful Reversal
A firm or enlarged epididymis on physical exam may represent epididymal blockage which mandates the more complicated, less successful vasoepididymostomy procedure. One or both testicles found to be small in size may indicate testicular failure and may negatively impact the success of reversal.
The Most Important Factor in Successful Vasectomy Reversal
Dr. Larish distinguishes between "patency" success rates and "pregnancy" success rates. Patency rates quantitate the success of sperm in returning to the ejaculate. Because pregnancy is a "couples phenomenon" and depends on other factors such as female fertility issues, its measurement is always lower than the patency rate. Please view the success rate of our vasectomy reversals for both the vasovasotomy and vasoepididymostomy procedures:
It is imperative that the chief surgeon be highly skilled in all aspects of urologic reconstruction but, most importantly, in the microscopic vasoepididymostomy procedure. Dr. Larish currently employs a state-of-the-art vasoepididymostomy approach. Also referred to as the longitudinal intussusception technique, it requires the microscopic manipulation of two 10-0 or 11-0 sutures (finer than a human hair). Dr. Larish's expertise in this highly demanding procedure has resulted in a remarkable 90% patency rate in his vasoepididymostomy patients. These inspiring videos and testimonials affirm Dr. Larish's masterful understanding of male fertility surgery.
Contact us about vasectomy reversal:
If you are interested in learning more about vasectomy reversal microsurgery, call Dr. Larish, the most experienced micro-surgeon for vasectomy reversal in NYC.