What is Microsurgical Vasoepididymostomy?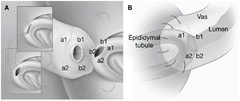 Over the years, there has been impressive progress in the field of reproductive surgery. What you can now achieve with vasectomy reversal reflects these advancements. Dr. Larish possesses not only the latest equipment, but also expertise at performing the most advanced techniques.
Vasovasostomy and vasoepididymostomy are two techniques involving the microsurgical reconstruction of the male reproductive system. These and other advancements including ICSI (or intracytoplasmic sperm injection) and techniques involving surgical sperm retrieval from the epididymis ensure that all men who have encountered obstructions can now become fathers.
The Microsurgical Vasoepididymostomy
A vasoepididymostomy is a surgery that deals with repairing obstructions of the epididymis. Experts consider this to be one of the most advanced microsurgical procedures. Years of experience and top-notch skills are necessary. As a result, if you are seeking vasectomy reversal surgery in NYC, be very diligent in selecting only the most accomplished surgeons.
What Can Cause an Obstruction of the Epididymis?
There are a wide variety of reasons why men may need this procedure. Reasons range from everything from issues like Young's Syndome and abnormalities from birth to an infection or accidental injuries. Men also regularly receive a vasoepididymostomy to reverse vasectomies.
Why Select the Vasoepididymostomy as a Vasectomy Reversal?
Surgeons select the vasoepididymostomy procedure for patients when either low vas fluid or no vas fluid is found during a vasectomy reversal. In this situation, this additional surgery is required to express fluid from the vas deferens. The surgeon then connects the vas deferens directly to the epididymal tubule and this directs the sperm around the blockage.
Once this procedure has been successfully performed, men have a very high likelihood of being able to get their partner pregnant. Sperm rates can return between 52%-92%.
It is also interesting to note that during the microsurgical procedure, sperm can be collected and frozen for use at a later date. This can be useful in the rare chance that the procedure fails completely.
Your NY Vasectomy Reversal Surgery
Pregnancy rates improve when a highly advanced surgeon performs this procedure. Technical perfection makes a big difference. Vasoepididymostomy is the most difficult to perform surgery for male infertility.
Dr. Larish has achieved expertise at performing the Vasoepididymostomy as well as other vasectomy reversal surgery.
Contact our office today and we will be pleased to offer you a consultation.
When you are opting for a vasoepididymostomy, selecting the best urologist for vasectomy reversal in NYC is essential.